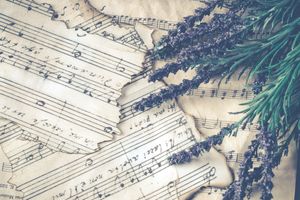 Do you have a favorite worship song? I know I do. I have played it out over the years trying to lift my spirits when I'm sad, feeling sorry for myself, or sometimes when I've just had a disagreement with a loved one. I play it when just need to be reminded of God's unfailing love and affection for me. I allow its melody and sweet lyrics to renew my hope that somehow, someway, I know He will make it all better again. 
Many of us have that go to song, steeped in so many memories, worn out over time, but as I read Psalm 40:1-3 this week, I felt God saying to me that it's time for a new worship song. 
King David, author of the Book of Psalms, had a life filled with strife, war, and distrust, even from an early age. I think his complex upbringing and young leadership is what enabled him to tap into areas of himself, few do, in order to write such deep worship from the heart. He knew that there was only one rest for his soul, Yeshua HaMashiach (Jesus the Messiah). In Psalm 40 verses 1-3 David says, "I waited patiently for the LORD, and He inclined to me, and heard my cry. He also brought me up out of a horrible pit, out of the miry clay, and set my feet upon a rock, and established my steps. He has put a new song in my mouth – praise to our God; many will see it and fear, and will trust in the LORD." 
Sometimes out of habit, we go back to the same old feel-good song and expect it to "work its magic" once again. Sometimes it does, and sometimes it doesn't. If your soul is feeling like yesterday's bread, stale and hard, then maybe it's time to take a note from King David. (Note, get it!) Maybe it's time to wait patiently for the Lord and allow Him to put a new song in your mouth. 
Now I'm not saying you need to be a great singer, musician or songwriter, what I'm saying is that God wants to meet with you. He wants to turn those times of sitting in that horrible pit feeling trapped in life, or feeling unstable like miry clay, and put your feet on solid Rock and help you steady your way through life's challenges. I'm saying He wants to put a new word in you! A new praise! A new worship! A new song! 
Even better than that, He wants to empower your new song so that many will see it and fear, and put their trust in the Lord. 
You know how I know that King David wasn't just talking about actual music but our life's journey with the Lord, because he said people would "see" your new song, not "hear" your new song. What new song? The song your life produces! Your testimony! Your walk with the Lord! What God can do in you, and through you, when you wait patiently on Him and allow Him to guide your steps. 
This month, may the Lord put a new song in your heart and may you sing it loud and proud, for all to see. May He establish your steps, your decisions, your outpourings and align them with His perfect plan for your life. May He turn every unpleasant situation into a song that will make the earth tremble with His worship, for we serve an awesome God! 
B'shem Yeshua (in the name of Jesus)! Amen!