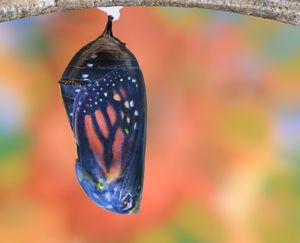 On Rosh HaShanah  we are awakened by the sound of the shofar to recognize our sin and to shake off our complacency to it. On Yom Kippur, we inspect our lives with a fine tooth comb to remove any unworthiness and unholiness from our walks with the Lord. Finally, on Sukkot God gives us a reminder of the finish line…of the end goal…to focus our now newly cleaned and purified hearts and minds on to greater things…to look heavenward for the eternal sukkah and the Kingdom of Heaven is at hand. We are exhorted to not waste our precious, limited time here on earth with frivolous and worthless pursuits, or to occupy our minds with regrets of the past, or worries of the future. We are reminded to put away the earthly sukkah of our fleshly bodies, and to seek first His Kingdom and all things will be added unto us. 
As I was reflecting on the above affirmations this High Holy day season, I was reminded of my friend, Kim, who got a special word from the Lord this year. It dovetails with what God has been speaking to my heart, and I wanted to share it with you. 
We have all seen the images of a butterfly or moth's lifecycle. It first begins as a caterpillar fattening itself on vegetation, and then it spins its new home, and finally, we await with anticipation the glory that follows. With this image in the back of her mind, God said to Kim a very simple yet powerful phrase, "Those who don't transform, die in the cocoon." 
Kim was dumbfounded. The truth of this statement was like a knife to the heart. We work so hard fattening ourselves up on the Word of God and gaining the wisdom of the world, then it comes time for us to spin our homes in preparation of the transformation that is necessary for us to fulfill our destinies, and sadly many fall short. We are too engrained in this world…in the earthly sukkah, or cocoon, that we do not want to leave our comfort zones, and transform into what God has called us to be. We have our eyes focused on the earthly sukkah and on fleshly pursuits, and not on God, His will, and His heavenly sukkah/Kingdom. It is only in this transformation that we have the wings of freedom to soar, to worship, to reflect the beauty of the Lord in this lackluster place. Sadly though, despite God's call for change, many believers will still die in the cocoon never having reached their full potential.     
I want to exhort you this year to submit to God's transformation. Do not fear it! Get excited! God wants to make you beautiful as you reflect His beauty. He wants to make you successful as He is successful. He wants to show in you His power to take an insignificant creature and reveal His majesty, His sovereignty, His goodness! Let Him in! 
Let us pray this year, Father God, remove any barriers to our transformation. Make us new this day, in the name of Yeshua. We bind a spirit of fear of the unknown. We are never alone with You, for You never leave us nor forsake us. Take us on this new journey. Hold our hands, hold our hearts. Give us new wine, in new wine skins. Ignite us afresh. Anoint us. Appoint us. Renew our fervor for You and the things of Your Kingdom, this day. May we reflect Your glory and Your awesome redemptive, and transformative power to all who have eyes to see and ears to hear. We long to soar with You. Meet us where we are this day, and answer our call for transformation! B'shem Yeshua! 
"I beseech you therefore, brethren, by the mercies of God, that you present your bodies a living sacrifice, holy, acceptable to God, which is your reasonable service. And do not be conformed to this world, but be transformed by the renewing of your mind, that you may prove what is that good and acceptable and perfect will of God." (Rom 12:1-2)