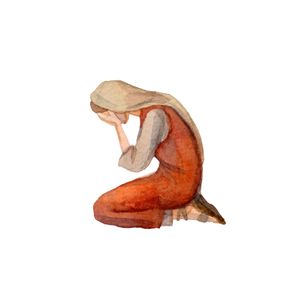 As many of you may know, it is traditional to read Psalm 27 during the month of Elul. Elul is the month preceding the beginning of the High Holy Days. It is a time of introspection, repentance and getting closer to our Creator. This month I decided to write an expose on Psalm 27, not through the lens of teaching, but through prayer. After each stanza, pray with me for God to "renew a right spirit" within us. We are the Bride of Messiah, holy, and chaste. Let us make ourselves ready for the return of the Bridegroom. Let us surrender to the Lord, and not fight the work of the Master Gardener. Let us desire to be pruned, to be corrected, to be cleansed. Let us allow the Lord to remove the branches in our lives that no longer bear fruit, and to fertilize and fortify the branches that do. Let us surrender to His work to remove the idle, worthless, and vain things, and to refocus us toward the things He created us to accomplish. 
PSALM 27 
The Lord is my light and my salvation; 
Whom shall I fear? 
The Lord is the strength of my life; 
Of whom shall I be afraid? 
When the wicked came against me 
To eat up my flesh, 
My enemies and foes, 
They stumbled and fell. 
Though an army may encamp against me, 
My heart shall not fear; 
Though war may rise against me, 
In this I will be confident. 
Build our confidence O God, build our confidence! Not in the temporal things, not in the material things, not in the works of our own hands, but in Your light, in Your salvation. Father help us to bind the spirit of fear that destroys our confidence. Let us stand firm in the power and strength of Your might, for there is no Savior but You. You are the Creator of the universe, what created thing could stand against You? Let us not fear the creation: the people that speak destructive words, the decrees of sickness or death, the many evils of this world and its influence on others, the deception of isolation. Let us not fear the outside world, or our own inadequacies. You are bigger, greater, far more able to build up the bars and gates of our hearts and fortify our inner cities. May we house Your Presence within us with courage, peace, and confidence, for there is NONE like You! 
One thing I have desired of the Lord, 
That will I seek: 
That I may dwell in the house of the Lord 
All the days of my life, 
To behold the beauty of the Lord, 
And to inquire in His temple. 
For in the time of trouble 
He shall hide me in His pavilion; 
In the secret place of His tabernacle 
He shall hide me; 
He shall set me high upon a rock. 
There is no place on earth where there is true safety. Only in Your complete authority over every storm, do I find refuge. Within Your pavilion there is no frailty, no fear of imperfection, no worry. Help me find that place in You where there is complete rest for my soul, where I can gaze into Your beauty, sit at Your feet, and where You remove every care of the world. Hide me, O Lord, in You. 
And now my head shall be lifted up above my enemies all around me; 
Therefore I will offer sacrifices of joy in His tabernacle; 
I will sing, yes, I will sing praises to the Lord. 
I praise You for Your righteous vindication. For You act not for my name, but for Yours…that the world will know our God is a Good God that He fights for His people. We will honor You in every trial, for You are the glory and the lifter of our heads. Selah! 
Hear, O Lord, when I cry with my voice! 
Have mercy also upon me, and answer me. 
When You said, "Seek My face," 
My heart said to You, "Your face, Lord, I will seek." 
Do not hide Your face from me; 
Do not turn Your servant away in anger; 
You have been my help; 
Do not leave me nor forsake me, 
O God of my salvation. 
When my father and my mother forsake me, 
Then the Lord will take care of me. 
Help us to seek Your guidance as we allow You to be the Great Architect of our lives. We seek Your face, this month. We seek Your plan, Your way, Your outcomes. Answer us when we call, O Lord, for we want to be a friend to You in all things, abiding in You alone, relying on You alone. We have no hope, but You. 
Teach me Your way, O Lord, 
And lead me in a smooth path, because of my enemies. 
Do not deliver me to the will of my adversaries; 
For false witnesses have risen against me, 
And such as breathe out violence. 
I would have lost heart, unless I had believed 
That I would see the goodness of the Lord 
In the land of the living. 
Help us to have the heart of Yeshua to see each other not as we are, but as we could be in You. Help our unbelief, help our lack of vision. We were once wayward, but You sought us, wooed us, taught us. Help us to pray for our enemies, for those who persecute us, hate us, misunderstand us. Help us to show love even when we don't yet feel it, for we acknowledge its power, for YOU ARE LOVE and in You we have the eternal hope that we will live to see the goodness of the Lord. 
Wait on the Lord; 
Be of good courage, 
And He shall strengthen your heart; 
Wait, I say, on the Lord! 
Grow our patience! Help us to see Your will outside of time, outside of our human limitations. For Your deliverance is exact, never late, and never early. Always arriving on time, every time. Strengthen us as we wait upon You. Let us not falter in our flesh, for the truth of Your Spirit transcends time.